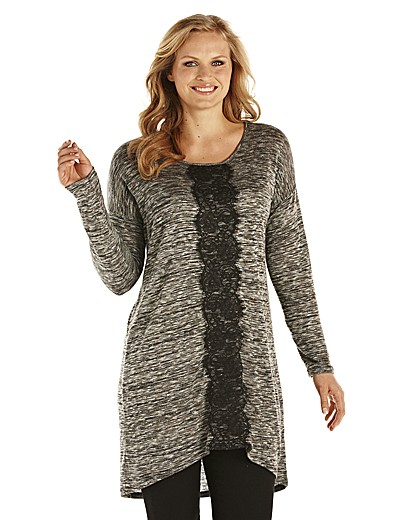 Today I want to show you how I wore my Marisota jersey tunic when I took it bootsailing at the weekend.
My first comment would be that I sized up a couple of sizes and it wasn't "baggy" on me which might be something to consider, especially if you carry weight up top. As my shape is completely different to the model above the tunic did end up being a slightly long jumper as opposed to a tunic/dress, but it's still long enough to get away with wearing over leggings. It is slightly longer at the back with a dipped hem and skims over your bum so no need to worry about the see through legging look.
I wore it with a pair of Sainsburys leggings, a primark vest top underneath and plain black Fred Perry shoes.
The tunic is a really nice fine knit and quite lightweight so definitely one for autumn and then into winter maybe under a coat. It also has a cute black lace stripe down the middle which breaks up the grey and the main fabric looks like a grey marl/tweed print.
So yeah, basically I really like this top and it's absolutely something I will continue to wear at the weekends over leggings. If you want to check it out yourself or look at the rest of the Ava range by Mark Heyes for Marisota here is the link: Ava by Mark Heyes.
Thanks for reading, love Sally X