The day has finally arrived of the make up collection launch for one of my favourite Youtubers, Tanya Burr, made by Eye Candy and supplied exclusively via www.feelunique.com with a launch onto the high street in the near future. I absolutely love watching her videos and I always keep up to date on her, Zoe and Louise's adventures. I was so excited to hear that echoing Sam Chapman with her Real Techniques collection, Tanya has brought out a range of nail polishes and lip glosses AND at an affordable price point!
First up are the nail polishes, there are a total of 10 in the collection and you get 12ml of product for a very reasonable £5.99. The packaging is a simple bottle with a glossy black lid and the branding is a Tanya Burr signature on the front with a cute heart.
top row l-r : Be Bright, Be Happy / Riding Hood / Little Duck
bottom row l-r : Midnight Sparkles / Mini Marshmallows / Mischief Managed / New York Night / Peaches & Cream / Penguin Chic / Bright and Early
The three shades that immediately take my fancy have to be Little Duck (a pale green/mint/duck egg shade), Penguin Chic (a taupe/grey) and Peaches & Cream (a light peach as you would expect) but all of the colours look stunning and wearable.
Next up are the lipglosses, there are 12 different colours (5 shimmer and 7 cream) which are £6.99 each for 8ml of product. The packaging is the same style as the nail polishes with the signature branding and glossy black lid. Again price wise I think that's pretty reasonable and in line with most drug store brands like Rimmel, Maybelline or Bourjois.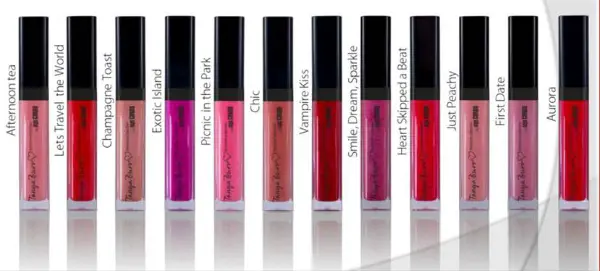 Picture Credit : link!
All of the swatches I have seen for the glosses look really lovely and pigmented and can be viewed over on Katie's blog here. I like that there is a good range of colours and the two different textures for variety. I feel drawn to Exotic Island which is a gorgeous purple and is different from my usual pale shades I gravitate towards.
My initial thoughts on this collection are all really positive and I can't wait to try them out for myself. What do you guys think? Do any products take your fancy?
Thanks for reading!
Love Sally X