Last Wednesday I attended a fabulous dinner event put on by Marisota to showcase the new AVA collection by celebrity stylist Mark Heyes (Yes he is the one on Lorraine!).
After work I headed to Covent Garden to the gorgeous Kettners, I got there far too early and nervously hung around outside for a while waiting for Vicky over at The Curved Opinion who I'd been speaking to on Twitter. I thought I saw her go in so I darted after this woman but turns out it was someone else! At this point though I was inside and being directed upstairs to the event so it was too late to try and retreat.

I made a beeline for the ladies to powder my nose/ de-oil my face from the sweaty mess that is the London Underground. In there I got talking to a couple of women (sorry I can't remember your names) who had won a competition to attend the event and I think they were as nervous as me but totally excited. This was reassuring.

After a few stern words with myself ie "pull it together woman and get out there" I broke free from the shackles of the ladies and embarked upon the beginning of my Marisota adventure.
This began at a small clothes filled room with a photographer on hand where you could play dress-up to your hearts content. I bumped into Betty over at www.bigfatbetty.com who I started talking to, forgetting she has no idea who I am. I would later on also fianlly meet Vicky from www.thecurvedopinion.com and Hanna from thewardrobechallenge.co.uk/ who were really nice.

Even at a first glance I could see some pieces that really stood out, being the pink coat and a gorgeous knit tunic (link to outfit post here). You can check out the full collection here and Marisota give you 10% off your first order which applies automatically to your basket.
Here are some pictures of me goofing around in front of the camera for your amusement.
I couldn't resist grabbing Hanna for a quick photo!


We then went into the dining room where I was sat opposite the lovely Linda over at High St Style, Jenny from SCPR and next to Lauren from Woman's Own. The other psbloggers were up at the other end so this gave me a bit more of an opportunity to step outside of my comfort zone and the ladies were so lovely I needn't have been so anxious.

Mark then told us about his vision for the collection and the process of picking out the range and sharing his enthusiasm for the famous pink coat, which is machine washable!
We then had a delicious 3 course dinner


I chose the Charcuterie Platter




The rack of lamb
and finally the Chocolate Marquise which was heaven!


After dinner we then went back to the Aladdin's cave of clothes and accessories and chose out a couple of pieces to take away with us. I couldn't resist the lure of the pink coat, especially after we all donned one (including Mark!!) for one of my favourite pictures below: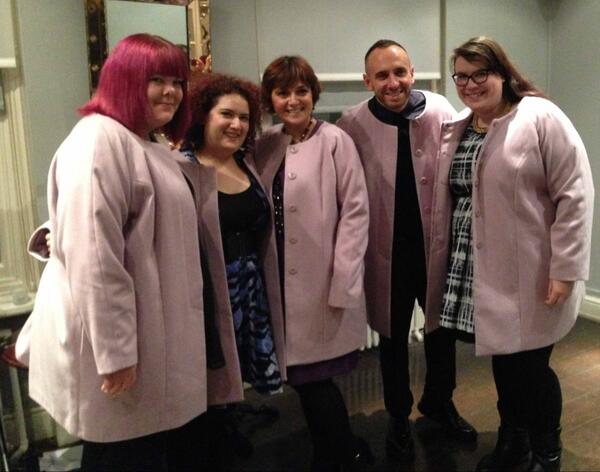 We also received a goody bag as we left which contained a Jo Malone gift set and look books with the full clothing ranges to flick through with DVDs to watch! I didn't look at these until I got home and was a nice surprise in the morning.
To finish off the post, this is a picture of me at around midnight after I'd just got home, I never want to forget how I was feeling when this photo was taken. I was so tired, yet so buzzed about how good the night was. I've never been to a proper event before and it was such a big deal to me, that someone had gone out of their way to invite me along because of stuff I have written. It made me feel really good and I literally cannot thank everyone enough that made that event as amazing as it was.