So yesterday was a big day for us plus size girls, an opportunity for anyone to take part in a 99p dress offer at Yours Clothing (£3.99 delivery/£2 store delivery and limited to one per customer).
Needless to say the news spread like wildfire as we all scrambled to make our selection, most of which was the polka dot number it later emerged (me included), prompting Deb over at Wannabe Princess to create a blog challenge as so many of us will have the same items, amazing idea!
This offer came as a complete surprise to me, I mean the concept of a 99p dress where the postage costs more than the dress itself has been done before, it's not new, but never before in plus size! I think Yours succeeded in whipping up quite a storm with dresses selling out ridiculously quick and plenty of chat about them all over Twitter, very good PR! Sorry I can't provide larger images of the individual dresses, I emailed asking for some but I think they are probably swamped so if I can get them I'll update the blog post!
What dress did you guys pick up? If you got one make sure you email Deb, details of the blog challenge are below: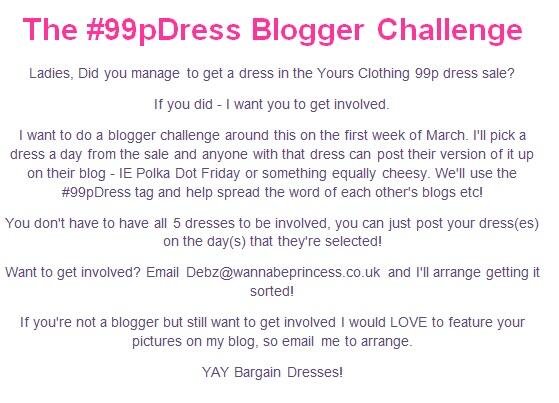 Thanks for reading! Love Sally X